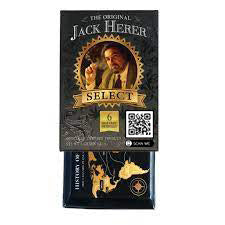 Jack Herer THC-A 3.5 gram Pre- Rolls 6 count
---
Jack Herer, known as the "Emperor of Hemp," was a renowned cannabis rights activist and the author of The Emperor Wears No Clothes. The founder and director of Help End Marijuana Prohibition (HEMP), Herer argued that cannabis can be used for a variety of purposes, including fuel, medicine, food, paper and fiber. He maintained that U.S. officials have withheld evidence of its potential.
Now this Legendary Strain Comes to you in a KCA T-Free Form. All Our Products are tested BY KCA Labs for Purity. Please Scan the QR Code in the Media Files to see full COA. 
A link to the COA can also be found by Clicking Here.
---
Share this Product